Le Cordon Bleu GD Goenka University is a collaboration between Le Cordon Bleu, a world-renowned culinary institution, and GD Goenka University, one of the top universities in India. This partnership provides students with the opportunity to receive a world-class culinary education and become successful chefs. In this blog post, we will explore the unique features of Le Cordon Bleu GD Goenka University and why it is the perfect choice for aspiring chefs.
World-Class Faculty The faculty at Le Cordon Bleu GD Goenka University consists of accomplished chefs and industry experts who bring a wealth of knowledge and experience to the classroom. They have worked in some of the best restaurants in the world and have a deep understanding of the culinary industry. They are passionate about sharing their knowledge and skills with the next generation of chefs and preparing them for the challenges of the culinary world.
Industry-Relevant Curriculum The curriculum at Le Cordon Bleu GD Goenka University is designed to provide students with the necessary knowledge and skills to become successful chefs. The program is comprehensive and covers all aspects of culinary arts, from basic cooking techniques to advanced culinary skills. Students learn about nutrition, food safety, menu planning, and kitchen management, among other things. The curriculum is regularly updated to reflect changes in the culinary industry and to ensure that students are learning the latest techniques and trends.
State-of-the-Art Facilities Le Cordon Bleu GD Goenka University has state-of-the-art facilities that are designed to provide students with the best possible learning experience. The campus has a fully equipped training kitchen, a patisserie, a butchery, and a bakery. Students have access to all the tools and equipment they need to practice their culinary skills and develop their creativity. The facilities are also designed to meet the highest standards of hygiene and safety, ensuring that students learn in a safe and healthy environment.
International Exposure Le Cordon Bleu is a global institution with campuses in over 20 countries. Students at Le Cordon Bleu GD Goenka University have the opportunity to interact with students from different parts of the world and learn about different cuisines and cultures. They also have the opportunity to participate in international culinary competitions and events, which can help them build their network and gain exposure to the global culinary industry.
Career Opportunities GD Goenka University has a strong network of industry partners, which helps students secure internships and job placements in some of the best restaurants and hotels in the world. The institution also offers career support services to help students develop their resumes, prepare for interviews, and explore different career paths in the culinary industry.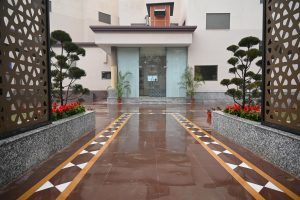 In conclusion, GD Goenka University is the perfect choice for aspiring chefs who want to pursue a career in the culinary industry. With world-class faculty, industry-relevant curriculum, state-of-the-art facilities, international exposure, and career opportunities, students can receive an unparalleled culinary education and achieve their culinary dreams